This Sunday the 3rd of May we are hosting an Online Swiss tournament –
AuNix Online Swiss
Rapid 15 Minutes per side Plus 5 seconds increment from move 1.

Free entry open to all registered Livechess Play Group members, CAQ members and selected invitees. Arbiters are FA Dusan Stojic and NA David Esmonde.

Round 1 will start at 10am Sunday and each round will start at the top of the next hour. A 1 hour lunch break from 1:00pm, and Round 4 starts at 2:00pm
Registration for this tournament will close at 10pm Saturday night 2nd May 2020.

Before Registering please review The Online code of conduct.
To register for this Tournament you must have both a AuNix Livechess account and have enabled your Livechess Play account. Please note that you can enable your Play account from your profile page once you login to your Livechess account.
Once you have logged into Livechess, the tournament signup is found by selecting "Tournaments" from the side menu;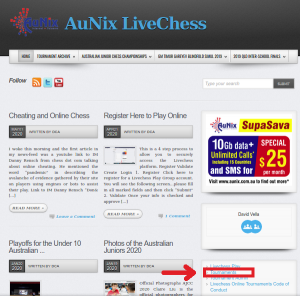 Click on "View Details" for the AuNix Online Swiss;


And Finally click "Register" in the bottom right to register your account to play.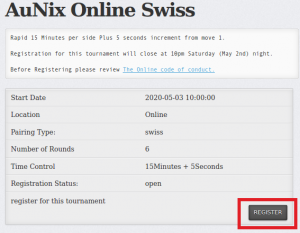 ---
On the Day.
On the day of the Tournament please ensure you are logged into both the main Livechess site and the Livechess Play site.
At the start time of the round go to "Tournaments" on the sidebar;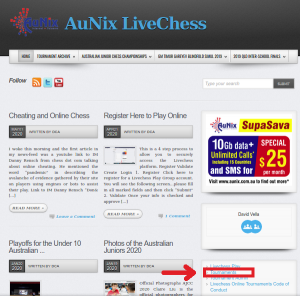 Then Click on "View Pairings";


This will take you to the latest available round pairings,
From here if you are the white player you will have a button to issue the challenge to your opponent;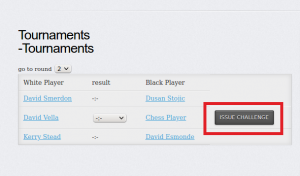 If you are the Black Player you will have a button that will take you to the Livechess Play dashboard to await a challenge notification;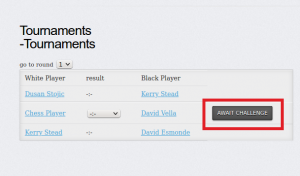 Once the Notification appear click the green arrow to begin the match;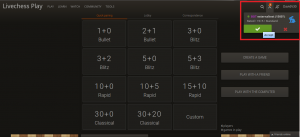 ---
After The Game
After each game the winner is required to report the games result, or in the case of a draw both players are required to report the result.
Please do so by clicking "Tournaments" on the right sidebar, then "View Pairings" and set your result using the drop down menu on your pairing;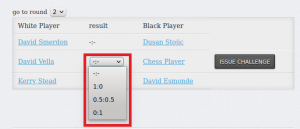 If the score has been entered incorrectly please contact the Arbiters for correction. Contact points for the Arbiters will be advised on the day.
If no score is entered by the start of the next round a score of 0:0 will be issued.